---
Guest Post:
Unique Bridesmaids Gifts
---
By Sanna Khoja (bollyvoguestyle.com)
Edited by Aanchal Khurana
Wondering if you should get your bridesmaids a present? The answer is always yes!
Your bridal party has been there for you since you said "Yes, I'll marry you!" and will be until you say "I do". It is important to thank them for sneakily making you get a mani (even when you insisted you didn't need one), convincing you that seating arrangements aren't that important, and everything in between.
Now the question becomes HOW do I pick an amazing, but unique gift? I'm here to help you out, as I've come across various gifts from my days playing 27 Dresses
These are so cute and different. They also come in handy for your typical wedding weekend, when bridesmaids are running from venue to venue, trying to juggle their OOTDs, makeup, jewelry, shoes, so on and so forth. Need I say more? Other sari cosmetic bags and pouches are also available. Check out My Loving Tree on Etsy or KYNAH's handmade purses.
Everyone usually gifts robes to their bridesmaids, and we all probably have our 27 robes by now. Instead, I like the idea of jackets or zip-ups. I found these super trendy leather jackets from the BleachedBlondeBride. These would even look cute with Indian outfits! The nice thing is that you can customize however you want so that your bridesmaids can wear them again later. The downfall is that these can obviously be a little pricer than other options. Good news, I have a code for you to use to save 10% "BollyVS10".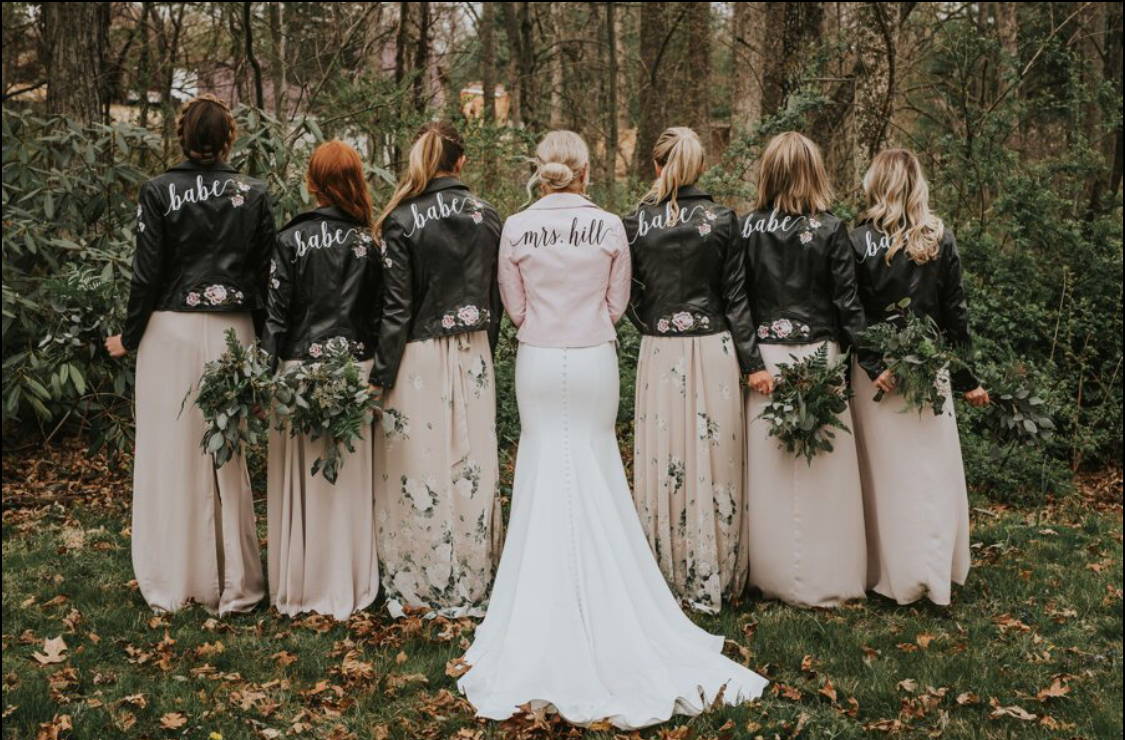 Who doesn't love a good bottle of rosé? One of my favorite presents to give (in fact, I did this for my own bridesmaids!) are bottles of wine with personalized labels. This is a cost effective and personalized gift, and so easy! You can buy a bottle of wine, print a label from home, and get creative with it. All you need is a color printer and labels from any office supply store, or of course you can always buy the labels from Etsy. Check out this Youtube video for some creative ideas. You can do this with champagne bottles or non-alcoholic beverages as well. Here's a tip - soak the bottle for five minutes or so in order to take the previous wine label off.
This one isn't that creative, but it sure is practical. You can never go wrong with pretty jewelry or a trendy little purse, and you can even match this to complement the theme of the wedding! Plus, it's always nice to take care of the bridesmaids' accessories so they don't have to find any of these items on their own. They can keep it after the night is over for future use!
Check out this amazing website, BoxFox, that I recently discovered. I wish I knew about this website during my wedding time. They have "bridesmaids boxes" that are already pre-made that you can order, but the best part is that you can also create your own if you want specific items in the box. From selecting the color of the box to each item you want, you have full creative control! Plus, you control how much or how little you want to spend. You can also make a different box for your maid of honor to make it more special. How fun, right?!
I hope this blog post gets your mind going with some cute bridesmaids gift ideas! Get creative and go the extra mile for your bridesmaids that are truly giving it their all to make your wedding weekend perfect!